"Anomaly Seeking Anomaly"
Kate Laster - MA/MFA, 2019
Ben Cornish - MFA, 2019
San Francisco Art Institute
Art Exhibit
July 2019
Black & White Gallery
Sweetie's Art Bar
Anomaly Seeking Anomaly is a celebration of two artists who've worked together for five years, encoding their work with transmissions for each other to receive.
Ben Cornish and Kate Laster are recent graduates from the San Francisco Art Institute MFA and Dual Degree graduate programs – memory splinters into their work through material and metaphor, transformed through the adaptive bonds of chosen family.
"Anomaly Seeking Anomaly" comes from a conversation the duo had about the hope of someone looking for and recognizing you in your artwork. Laster and Cornish approach image making with different centers of experience but continue to be surprised by the idiosyncratic riffs they make in their artwork for each other.
This show is a salute to the odd years of late nights, creative breakthroughs, downfalls and reboots. Anomaly Seeking Anomaly is the tethering of a lifelong support system being strengthened by having someone else go through the long haul with you.
Exhibit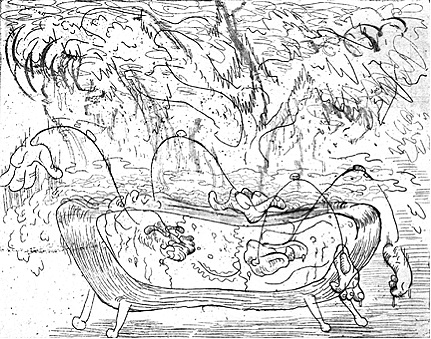 About the Artists
BEN CORNISH is an artist from Salem, Oregon living in San Francisco.
His images act as unsure timelines of mistakes and anomalies. His paintings, prints and drawings recall tensioned narratives that governed his childhood. Ideologies spoken with a certainty that could only be argued back in a kind of storytelling steeped in repentance. Cornish choses to speak in image. Bosch made paintings for the dungeons, Cornish makes images for houses filled with arguments and quiet anxiousness hidden, for oneself, from an environment built of allegory and alibi.
He received his Bachelor of Arts from The Evergreen State College. He is proud to have graduated alongside his partner, Kate Laster from SFAI this year with an MFA in Studio Art. He was awarded the Edwin Anthony & Adalaine Boudreaux Cadogan scholarship in 2018 and was selected to show in MFA Now 2019 at Root Division and most recently received the Jack Schafer Prize from SFAI.
KATE LASTER is an interdisciplinary artist born and raised in Alaska from Utqiagvik to Juneau: place is tethered to her practice. San Francisco has become her home.
Working either monumentally or intimately small, her work is connected to the weight of the past, human migration and the effervescent exhaustion of romantic love. Laster is an artist and educator; she currently teaches collaborative printmaking at the Tenderloin Boys and Girls Club through City Studio. While at SFAI she was the 2018-2019 Co-director of the Diego Rivera Gallery. She has shown work in California, Washington, New Mexico, Alaska and Pennsylvania as well as internationally in Berlin and Osaka.
Laster received a MA+MFA in History & Theory of Contemporary Art and Studio Art with an emphasis in Printmaking at SFAI. Her thesis, GENTRIFICATION OF THE DEAD: How The Displacement Of Cemeteries Paved The Way For Rethinking Monuments In San Francisco, was a site specific praxis of art-making and research.
Laster has curated the Open Book sequence of exhibitions, including the most recent iteration, Open Book Show V at Root Division and an upcoming show at Arion Press. Collaboration is an essential heartbeat to Laster's practice, working with Woosh Kinaadeiyí, the SF Poster Syndicate, and with Steph Kudisch as Hevra Kadisha (חֶבְרָה קַדִישָא).
Ben Cornish and Kate Laster have been working together since their meeting at
Evergreen State College 5 years ago, always seeking out each other's insight and support.